Venue
Culture Centre of the town of Sloup, Moravian Karst.
Sloup is the northern gateway to the Moravian Karst and a significant pilgrimage site. The foundation of Sloup dates to mid-11th century.
A natural landmark and a major tourist attraction in the area are the Sloupsko-šošůvské Caves, which host the worldfamous Eliška Cave, the stalagmite called Svícen (Candlestick) and the Kůlna Cave. The entrance area to the Caves is dominated by the free-standing rock pillar of "Hřebenáč".
All other Moravian Karst caves open to the public are easily accessible from Sloup, following tourist trails (for their descriptions, see below). This also applies to the Macocha Abyss.
Among cultural monuments of the town, the most significant is the Baroque church of Our Lady of Sorrows, built in years 1751–1754. Registered monuments also include the Kůlna Cave with finds of skeletal remains of Neanderthal Man – a unique object in the European archaeological context.
The oldest historical monuments in the Sloup vicinity include the castle ruins of Blansek, Holštejn and Boskovice. Other pilgrimage sites within the reach are the towns of Křtiny (18 km) and Vranov (25 km). The city of Brno lies 40 km from Sloup.
The Culture Centre at Sloup, opened in 1975, provides a big ballroom with a lobby and a gallery, and a multi-purpose room with a graded auditorium. This building has witnessed dozens of caving events already, traditionally hosting the annual meeting of Czech cavers "Speleofórum".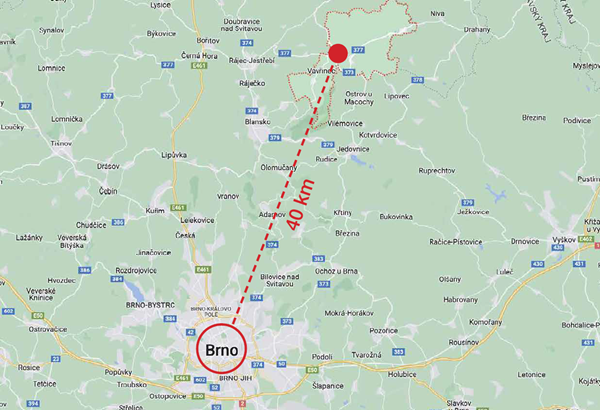 Transportation
The town of Sloup in the Moravian Karst lies some 40 km from the city of Brno (second largest city in the Czech Republic), ca. 220 km from the capital of Prague.
By air
The nearest airport is located in Brno but operates a limited number of flights. Besides, you can comfortably reach the venue from the airports in Prague (200 km) and Vienna (120 km).
By car
Brno can be accessed via motorways D1 (Prague–Brno, continuing to Poland) and D2 from Slovakia, Austria or Hungary (Bratislava–Brno). The coordinates for the venue at Sloup are: 49.4158019°N, 16.7373561°E.
By train
Trains provide a very good access to Brno, which is operated by international trains from Austria, Hungary or Germany. From Brno, you can take a train as far as the Blansko station and continue your trip by bus.
By bus
The venue is directly operated by public buslines. The best option from Brno is to take a train to Blansko. The bus terminal at Blansko lies next to the railway station, and that is where the buses No. 233 for Sloup depart from.
For additional information on bus connection, see www.idsjmk.cz/connection-finder/search.
Should you need a visa or additional travel information for your trip to the Czech Republic, click on www.mzv.cz/jnp/en/information_for_aliens