Trips to the Moravian Karst caves open to the public
Punkevní Cave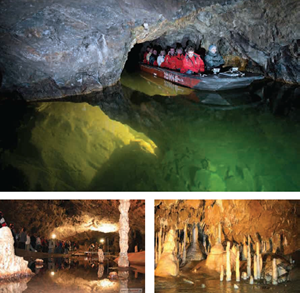 The Punkevní Cave is located in the canyon-like Pustý žleb Valley, about 1 km from the Skalní mlýn Information Center. The cave was discovered in several stages in the years 1909–1933 by Professor Absolon's group of speleologists. The visitors walk through mighty underground spaces and passages decorated with stalactites and stalagmites to the very bottom of the world-famous Macocha Abyss.
The abyss is 138 m deep, with fascinating dimensions of its cross section: 174 by 76 m. The foot walk is followed by a motor boat ride along the subterranean Punkva River. The ride includes a visit of the Masaryk Dome, one of the most beautiful caves of the Moravian Karst.
The Punkevní Cave is an extension of the longest cave system in the Czech Republic, the Amatérská Cave, with the length of corridors exceeding 50 km.
Field-trip duration 2 hours.
Výpustek Cave – show cave
The Výpustek Cave is a show cave in the central part of the Moravian Karst Protected Landscape Area. It is located in the upper section of the Křtiny Valley, in the municipality of Křtiny. It forms two subterranean levels of an ancient ponor system of the Křtinský Stream. It is a significant paleontological site, one of the few European sites where complete skeletons of early Quaternary (Pleistocene) fauna can be found.
The total length of all the spaces known today is ca. 1,300 m, with an elevation difference of 55 m. In the period of speleological explorations in the 18th century it was considered the largest cave in Moravia. During the 20th century, it was intensively used for exploitation of phosphate clay, as an army depot, a German army factory – airplane motors manufacturing and a secret command post of the Czechoslovak Army; in spite of that, some parts were preserved in a natural state.
The cave has been open for tourist visits since 2008.
Field-trip duration 1 hour.
Sloupsko-šošůvské Caves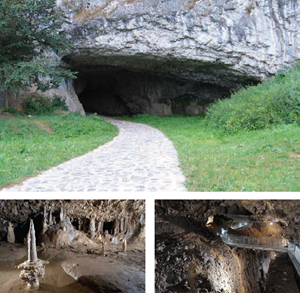 This large complex of underground domes, passages, abysses has two tiers. The Sloupsko-šošůvské Caves pose an important site with finds of fossil animal skeletons (bear, lion, hyena). The Elizabeth Cave with its rich dripstone decorations has also excellent acoustics and, as usch, is occasionally used for chamber music concerts.
During the reconstruction in 1997, the Stepped Abyss was spanned with a bridge, and a new, nontraditional view revealed to the visitors. The Nagel Abyss, 80 metres deep, is the greatest underground abyss of this type in the Czech Republic. From the two platform-bridges, the visitors get a view of the bottom.
In 1997, the world-famous archaelogical site of Kůlna Cave was also included in the sightseeing tour. In this cave, a fragment of Neanderthal man's skull, about 120,000 years old, was found. The Šošůvka part of the cave, discovered at the beginning of 20th century is characterized by fragile and colourful dripstone decorations.
Field-trip duration 2 hours.